WHY WE NEED ARMED SAFARI SCOUTS
We walked in thick clay-like mud and wobbled across wet decaying logs to cross creeks, threaded our way through wooded thickets and grassy meadows, and splashed through puddles on our path and above the sandy riverbank, taking time out for a tea break. Walking safaris come not only with a guide and an armed scout from The Department of National Parks & Wildlife (DNPW), but with a tea-bearer. At first, I was uncomfortable with being served by a man carrying hot tea, cream, sugar, juice, and snacks in a heavy backpack all morning. But tourism provides employment and employees, and their extended families benefit from those jobs. It was very hot— It was about 105 degrees Fahrenheit by the time we finished our walk—and halfway through we shed our jackets and as many layers of clothing as was decent. Fortunately, Zambians are not put off by sleeveless shirts or a slight display of cleavage. But showing our upper thighs would break the rules of propriety.
We stayed in a single-file line. It was hard not to stop and goggle at every sight and to stay between Manda and our scout ,Priest, who carried a rifle to protect us. A qualified government scout must learn detailed animal behavior, have better than average vision, display excellent marksmanship and be able to keep his head if an enraged elephant hurls up to fifteen thousand pounds of angry bulk at him more quickly than we can imagine. Every qualified scout must finish his training by killing an elephant. I suspect the wildlife authorities are very picky about what elephants they allow scouts to kill. Sometimes an elephant is so injured, it is a mercy to put it out of its suffering. And there are old elephants, like the one whose skull we found, who would die soon of starvation.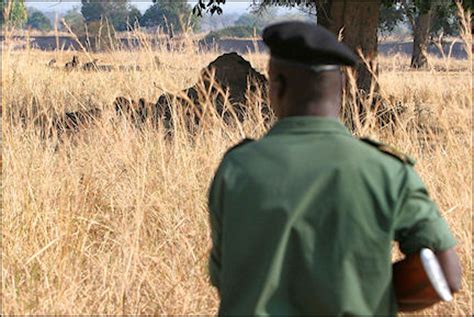 If an elephant charged, we were instructed to stand quietly together in a motionless clump and wait for Manda and Priest to tell us what to do. If Priest were to decide he had no choice but to shoot the elephant, he would discharge the first shot in the air, hoping to scare the elephant away. A more powerful second bullet will drop the elephant before he flattens us. None of us wanted to be the cause of an elephant's death or get trampled, so we listened carefully to Manda and paid close attention when Priest held his hand up and motioned for us to stop and stand still.
Written by Patricia Cole
An Africa Hope Fund board member for 7 years, Pat is a writer and a conservation activist. After traveling to Zambia, she became dedicated to helping Africa Hope Fund provide education to the next generation of Africans and ensure their future by protecting wildlife. Find Patricia on Facebook and Twitter, or on her websites www.writepatwrite.com and www.patmcole.com
Enjoy reading this Elephant Blog post? Help support our future posts by becoming a Patreon supporter!